What is Drukpa Tse-Shi?
Drukpa Tse-shi is a festival celebrated to honor the day Buddha delivered his inaugural sermon to his first five disciples at Sarnath. It is also known as the turning of the Wheel of Dharma. This significant occasion marked the introduction of the Four Noble Truths, the suffering, the cause of suffering, the end of suffering, and the path that leads to the end of suffering. Taking place on the 4th day (Tsheshi) of the 6th month (Drukpa) in the Tibetan Calendar, typically around July or August each year, the festival involves monks offering prayers in Sikkim's monasteries. Meanwhile, the Drokpas, a nomadic community in North Sikkim, celebrate in their distinctive way by organizing a thrilling Yak race amidst the beautiful valleys of Lashar. At a height of 15,000ft, Lashar Valley is home to the 'Dokpas' - a dwindling nomadic tribe. They have long traversed the cold deserts of North Sikkim and the Tibetan Plateau. In monsoon, the valley transforms into lush-beautiful green pastures and is ideal for grazing cattle since it contains plenty of nutrition and water sources. The valley lies amidst stunning glacial and barren mountains and adjacent to Zachu Valley - a meandering ox-bow lake.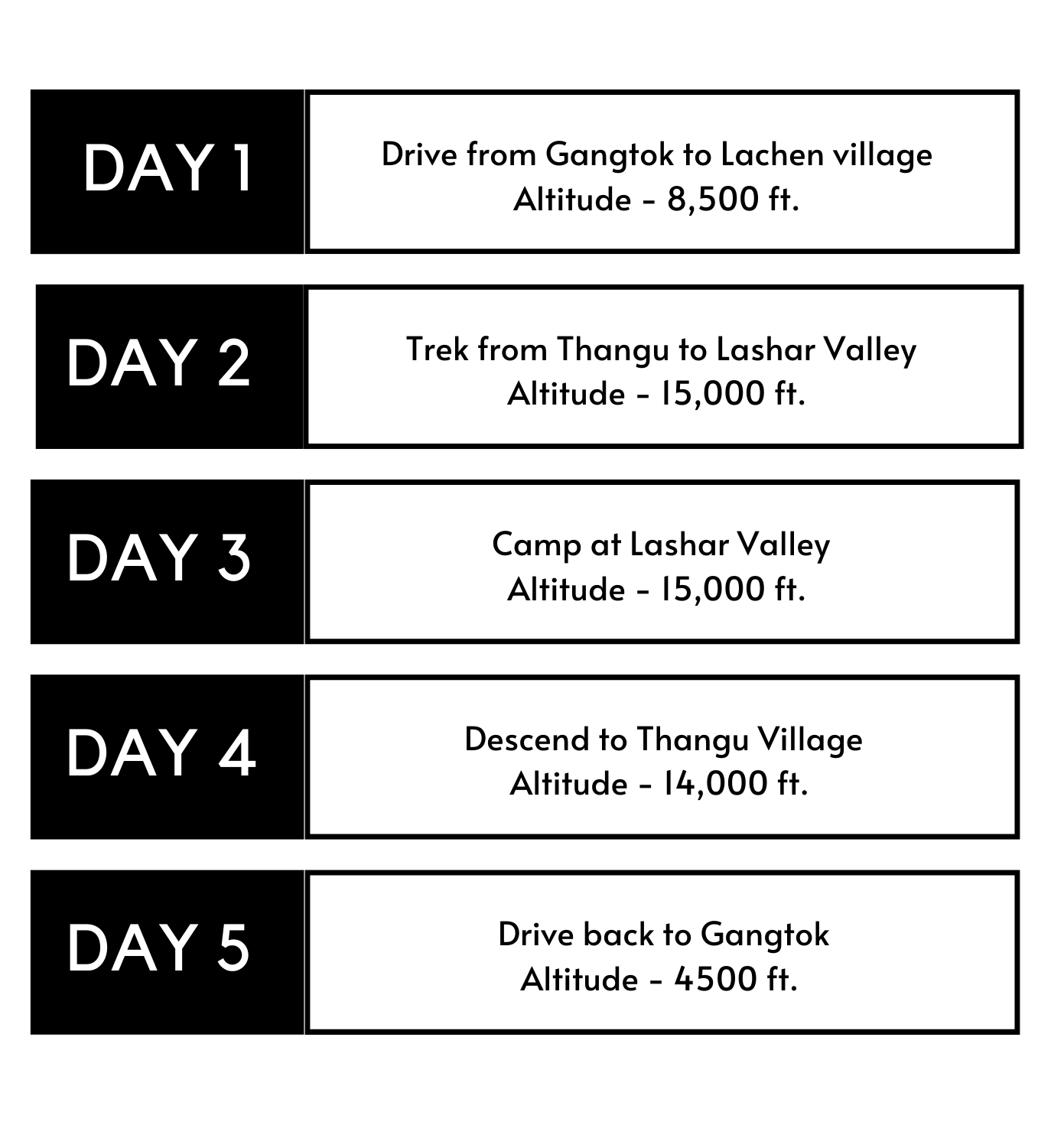 Enquire for Drukpa-Tse-Tshi 2023
The festival dates don't match your holiday dates? We can arrange for an exclusive camping trip at Lashar Valley!
Frequently asked questions
1. Who is this trip for?
This trip is for anyone who has trekking or hiking experience in high altitude.
2. Who is this trip not for?
This trip is not for someone with heart/breathing issues.
3. Any early bird discounts?
There are no early bird discounts as of now.
4. Which is the nearest Airport or Railway Station to Sikkim?
The nearest airport is Bagdogra Airport. The nearest railway station is New Jalpaiguri Railway station (NJP)
5. Where will I be staying?
All travelers will be put up in standard home-stays and in tents at Lashar on twin or triple share basis during the trip.
6. What to do in case of a medical emergency while on the trip?
Please inform Tag Along representative as soon as possible.
7. What things do I need to carry?
The participants need to pack their clothes, toiletries and trekking gear. A detailed packing list is available in the itinerary.
8. Do I need to carry food or snacks for the trip?
Food and snacks will be included in the package and will be provided by us based on the daily dietary needs of the participants. However feel free to carry snacks of your liking and choice if you want to.
9. How can we prepare our body for high altitude and avoid any sickness during the trip?
It is advisable to drink upto 3 litres of water everyday to prepare body for high altitude. Along with this it is expected that all participants prepare for the trip by exercising or cycling everyday atleast two months prior to the trip.
10. Are we allowed to drink alcohol during thr trip?
Drinking alcohol in high altitude can cause dehydration and headache which can eventually lead to high altitude sickness. We would seriously advise the participants to avoid drinking.
11. What are the inclusions in the Ride the Silk 5.0 package?
Accommodation in Twin or Triple sharing rooms during the trip.
Breakfast, Lunch and Dinner during all days of the trip.
Transportation Gangtok to Gangtok. Car type : Xylo or Innova.
Camping gears - Tents and Sleeping bags (one can also carry their own sleeping bag if they want).
Accommodation in Gangtok on 23th July at Tag Along 2.0 or Tag Along Backpackers.
Exclusions
Airfare or Railway fare to reach Bagdogra or NJP.
Added costs due to unforeseen events such as landslides, natural disasters.
Tips given to porters or hosts personal effects, snacks, and shopping.