Why Goecha La ?
Touted as one of the most romantic treks in India, Goecha La gives you awe-inspiring views of 14 summits of the Himalayas, including the Khanchendzonga, the third highest peak in the world. The trail to Goecha La takes you through Khanchendzonga National Park, a world UNESCO heritage which is home to flora and fauna. The shiny peaks under the starry sky at night and the sunrise from Dabhlahang top is a treat to the eyes and the soul.
Goecha La promises spiritual mysticism and open-mouthed wonder, all rolled into 9 days of pure joy. Tag Along for all this, friendly hosts, a great trek, rhododendron blossoms, and exquisite Himalayan birds all along the way!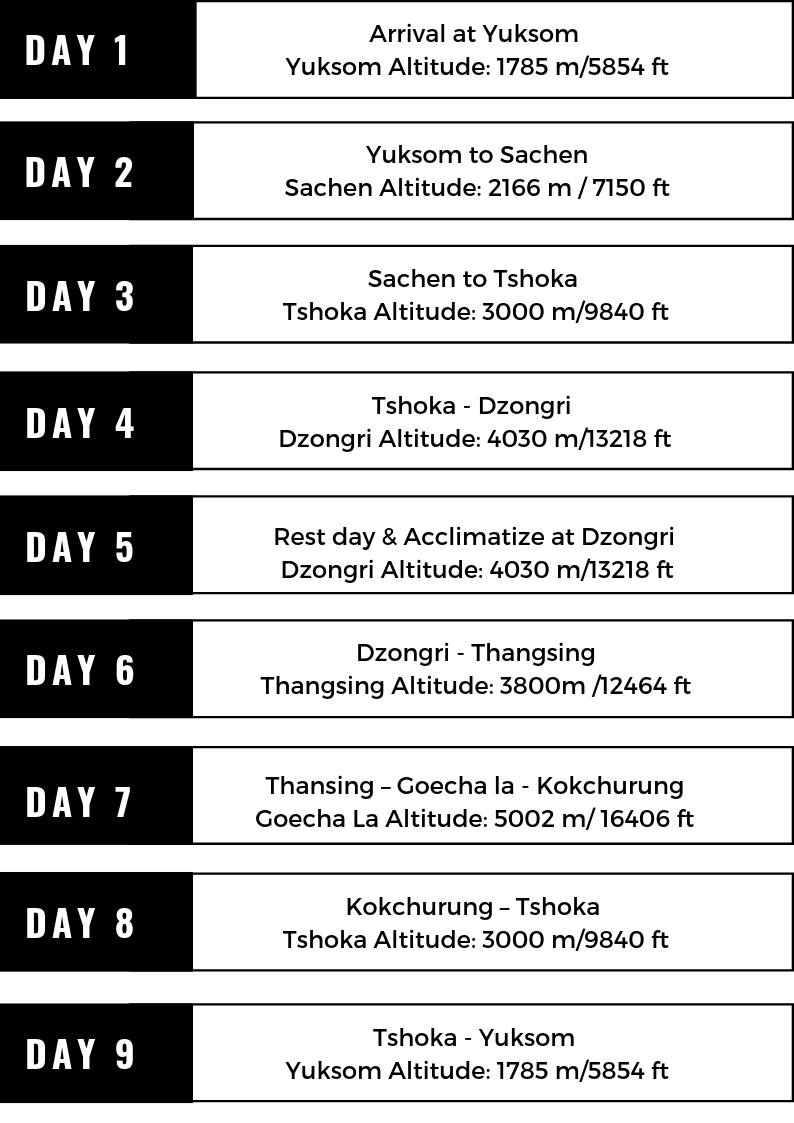 Enquire for Goecha La 2021
All you need to know
1. Which is the nearest Airport or Railway Station to Sikkim?
The nearest airport is Bagdogra Airport (IXB), located near Siliguri, West Bengal. The nearest railway station is New Jalpaiguri Railway station (NJP).
2. From where does the Goecha La trek start? How do I get there?
The trek starts from Yuksom, a historical town and the first capital of Sikkim, located in Geyzing subdivision of West Sikkim. From NJP Railway Station or Bagdogra Airport, you can take a cab which would take about 6-7 hours. If you'd like us to arrange for your pickup, please let us know.
3. Do I need to bring my own tent, sleeping bag, etc.?
Accommodation is provided by Tag Along, in tents while camping. It won't be necessary for you to bring your own tent or sleeping bag. However, if you choose to use your own gear, please feel free to bring them along.
4. How long would I need to hike/trek everyday?
On an average, you will cover about 10 km everyday. We recommend you to start working on your stamina and fitness to ensure that you are able to finish the trek with ease.
5. What kind of food is provided during the trek?
Both vegetarian and non-vegetarian meals will be provided, including refreshments midway.
6. Can I offload my rucksack?
We recommend you to weigh your rucksack and maintain a weight of about 10-12 kg only. When the going gets tough, you can always offload your rucksack which would entail an additional cost.
The Trip Cost Includes:
Camping Equipment: Tents, Sleeping Bags, Sleeping Mats, Kitchen Tents, Toilet tents, etc.
Meals: All meals provided will be freshly prepared. Hot drinks and soups will also be served during the trek.
Staff Expenses: Professional local trekking guide, kitchen staff, Yaks and Porters accompanying the group
National Park Entry Fee: Entry fee of participants is included but not for their camera equipment.
The Trip Cost Excludes:
Transport to and from Yuksom, before and after the trek. The cost to reach Yuksom will have to be borne by participants themselves.